What is MiniTask?
MiniTask is a FREE and easy-to-use task management application that helps you with organising your daily todos very quickly. It supports features like drag 'n' drop reorder, alarm timers, task sheet printing and customisation of styles.
MiniTask is...
FREE! (and available for Windows, Mac OS and Linux)
great for simple and fast task management - no complex bloat!
customisable!
synchronisable between multiple computers! (see FAQ)
fun and easy-to-use!
Features
Add, remove, edit and reorder tasks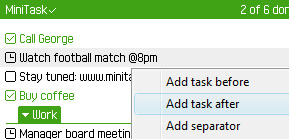 Quickly edit labels and task states
Add collapsible separators to divide tasks into groups
Setup reminders
Don't like green? Customise MiniTask!
Print pretty task sheets
Copy/Paste tasks from/to E-mails, Word, Excel...
Update MiniTask painlessly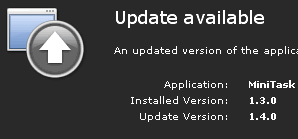 Install
This application requires Adobe AIR to be installed.
(This software is provided »as-is«, without any express or implied warranty. In no event will the authors be held liable for any damages arising from the use of this software.)
Problems with the install badge above? Just download and install Adobe AIR first and then MiniTask.air.
Donate
If you feel MiniTask is useful for you, you can support us with donations (any amount is fine):